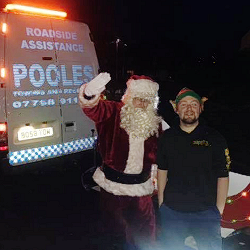 Congleton Santa's Santa Tracker
Congleton Santa's tracker lets you track him and his sleigh in real time.
It's found below, and you can also click here.
Please remember that routes are subject to change due to factors beyond even Santa's control: weather, traffic, inconsiderate reindeer, etc.  You can also keep up with changes to Congleton Santa's routes on our Facebook page and our news feed. So please make sure to like Congleton Santa's facebook page!
Please note we only have 2 hours (4 hours on Sunday) to cover the entire route, and while we dearly hope to visit every house and see every child, we can't promise we'll be able to.
Due to Elf and Safety we aren't able to stop on main roads. If we can't make it to see you one night, we will try another night. If you missed us or we don't visit your house, we'd love for you to come and find us on a nearby route.
Unfortunately the Grinch's at the insurance company do not allow anyone but Santa and his chief elf on the sleigh!