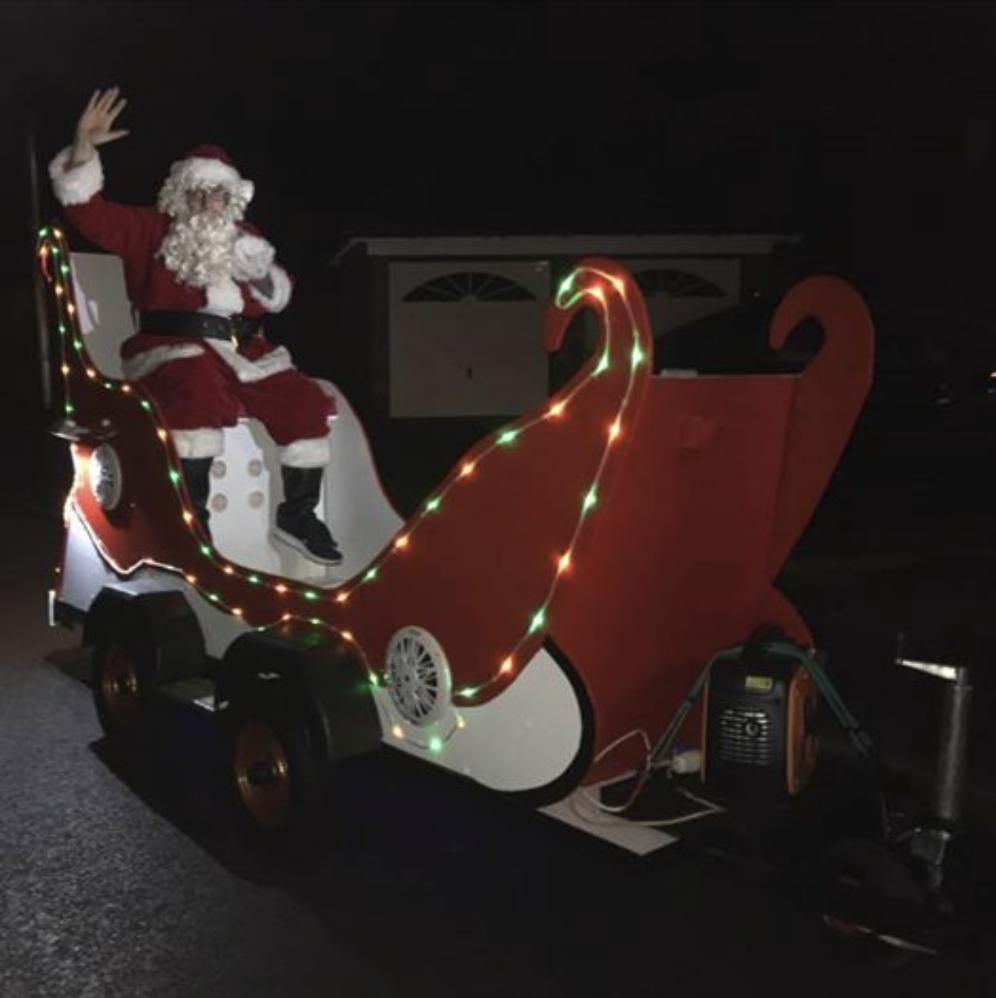 About Congleton Santa 🎅🏻
Want to learn about Congleton Santa? We help bring joy to local children in Congleton, while also collecting for many local charities. All our volunteers and organisers have regular day-jobs, many of them full time. Because we rely on the generosity of businesses, individuals and charities to keep Congleton Santa running, it'd be brilliant if you could make a small donation to keep us touring.
We've been spreading festive cheer in Congleton for many years. The current sleigh was originally built by the 'Elf Bell' in December 1998 to replace an older sleigh. Once upon a time, Santa was run by Congleton Roundtable 261, which celebrated its 60th anniversary in 2013. But unfortunately disbanded due to lack of numbers only two years later.
Fortunately for Congleton, a group of five volunteers, former Round Tablers and friends couldn't stand to let Santa stop knowing how much people across the town look forward to Santa's annual tour to help their celebrations. They set up Congleton Christmas Collection, becoming a Registered Charity (Number 1180237), and got to work with help from other charities and organisations based in the town providing collectors each night to raise funds for their worthy causes.
We inherited the sleigh from Congleton Roundtable in need of some serious TLC, its paintwork faded and the body needing some maintenance. Santa wondered if it would ever tour Congleton again. But Beardsmore Motors and John Sheard came to the rescue! They refurbished the Sleigh in 2017, with supplies from all-star Elves such as Belmont, LAC Autoparts, ThreadFast and Jewson Congleton. Wheels were kindly refurbished by Dave at Abovo Powder Coating and Sound System assistance came from Thompsons of Macclesfield. Thanks to everyones hard work Santa now has a sleigh that truly brings a shine to his tour.
As an umbrella charity, we coordinate the Congleton Santa street collection. Local good causes apply, stating how the funds will benefit the people of Congleton, once accepted they provide the collectors. We provide our sleigh, a towing vehicle, sweets, Santa and a chief elf.
Each night we collect across a different area of Congleton, with a different local good cause. The good cause group will then receive the bulk of the nights collection.
🎁 We are not the Round Table, Lions or Rotary Club. We are a small Congleton charity consisting of only 5 core local volunteers (all with regular day jobs), who have worked hard to keep Santa going since Congleton Round Table disbanded in 2005. 🎁